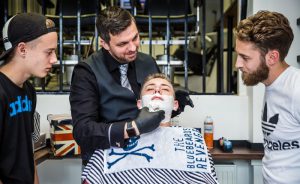 Day of Shaving
£180.00
The Classic Barbering course is the most reliable way to becoming a barber.
The Day of Shaving celebrates everything involved in a classic British wet shave; extending from working with fresh hot towels, to learning fragile forehand and backhand razor techniques. On this course, you will know how to show perfect full and partial shaves.
You will be one of a maximum of six volunteers allowing plenty of interaction between trainee and trainer. Having completed the course, you will be rewarded with a certificate.
Pay attention: For Day of Shaving & Professional Shaving courses, a minimum of one barber chair must be available for use when hosting a course in your own establishment.
Pay attention: This course can be accompanied by beginners as well, but taking part as a novice (no previous experience/knowledge) will show that you may be restricted in the education that you will gain from the day. Knowledge achieved does vary dependent on how quickly the volunteer learns the skills but we do suggest gaining previous experience or knowledge to make the best out of the course.
As a professional barbering academy, Mr.Snipper lets you feel the beauty and joy of barbering, what you've been looking for.
---
Here's our contact info:
Phone: +447821447725
Email: info@mrsnippers.com